This classic beauty is one of the most powerful electric cars ever made
Jalopnik will be trying the Renovo Coupé at Pebble Beach, California. I just wanted to post it here because it's a glorious thing: A modified Shelby powered by an electrical engine capable of developing an insane 1,000 lb-ft of torque, pushing the car from 0 to 60mph in under 3.4 seconds. It's gorgeous.
Actually, those numbers aren't really all that quick.
Still, one hell of a purty automobile: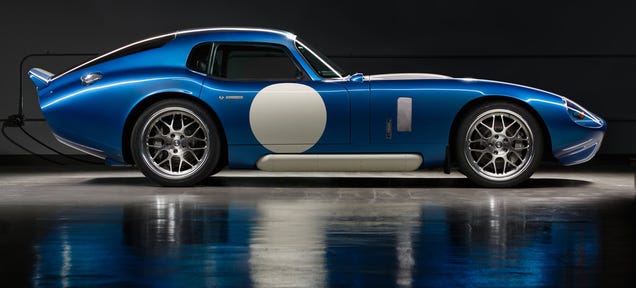 It's not even the fastest Cobra – a car nearly fifty years old would have kicked its ass:
HowStuffWorks "Why did the 1966 Shelby Cobra sell for $5.5 million?"
"When I built this dual supercharged 427 Cobra in 1966, I wanted it to be the fastest, meanest car on the road," Shelby said on the Barrett-Jackson Web site. "Forty years later, it will still kick the tail of just about anything in the world. It's the fastest street legal Cobra I've ever owned." Shelby pegged the car's 0-60-mph time at just over three seconds.
It was purty, too.