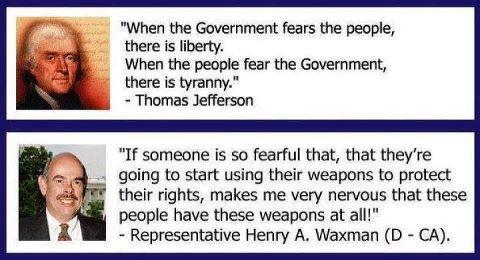 The Captain's Journal » A "Greater Right" To Weapons
Because people in law enforcement deal with criminals every days, Grebert thinks they have, "a greater right" to weapons, "to deal with potentially violent situations." And Grebert says he's confident police will still have access to the equipment they need "to get the job done right."

He could be discussing the popular progressive notion that the militia doesn't exist today because it's an antiquated idea, or if it does, it consists of law enforcement.  Thus, the second amendment gives them rights that it doesn't give us, or a "greater right," if you will.
This is the logic of tyranny, in this case, authoritarian police statist tyranny: Tyrants always have "greater rights" than subjects, serfs, or slaves.
The evil, stupid, and totalitarian "Feinstein Assault Weapon Ban" underlines this dichotomy, which is explicitly making a distinction between "hunting and sporting" firearms, and "weapons designed for military and police use."
I wonder if the men who used their muskets to establish the United States of America would understand, or accept, that distinction?
I suspect not. In fact, faced with the sort of tyranny expemplifed by Queen Dianne Feinstein and her ilk,  I suspect they would be reaching for their muskets once again.
UPDATE:  By the way, George Orwell was right – in a fascist state, some pigs are more equal than other pigs.  Also:  Have you noticed how the lefties all loved themselves some Orwell when Bush was president, but now that they're running the farm, you never hear a word about him?