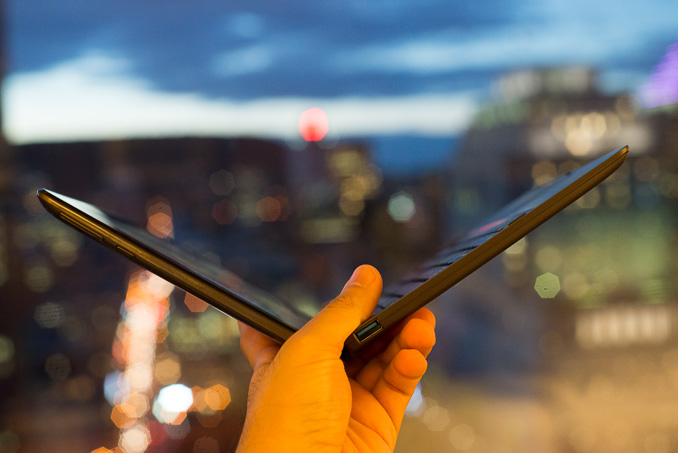 AnandTech | ASUS Transformer Book T100 Review: Redefining the Entry-Level Windows Notebook
At the end of the day the T100 is a good device, but like the Chromebook 11 we recently reviewed it could've been amazing with a few tweaks. With a less reflective display, color calibration at the factory and a better feeling keyboard/trackpad I'd be absolutely in love with the T100.
Anand has a meticulous, exhaustive review of my next computer, and in general likes it quite a bit.
Something interesting is happening.
I pre-ordered mine on October 7th for shipment on October 18th. It hasn't shipped yet, and from the comments I'm seeing at Amazon, that's the case for most people.
Now, Asus is a huge computer maker, and Amazon is one of the biggest distribution pipes on the planet. I called Amazon yesterday to find out what was going on, and was told that Amazon warehouses had not yet received product from Asus. The company is still selling this machine, but the item is being fulfilled by "Amazon vendors," unknown people who apparently were able to get machines before Amazon could.
The first seller was tacking a thirty dollar markup onto the $399 base price. Today, that vendor has vanished, and another is selling the machine with a sixty dollar markup (including shipping, which is free with my pre-order which was eligible for Amazon prime free shipping).
This sort of price inflation indicates to me that Asus has been caught flat-footed by unexpected demand for this computer. And, in fact, Asus itself did not even list the machine on its own site until the 19th, and you have to search for it to find the page. It isn't listed in any of the tablet categories otherwise.
Asus turned the PC business on its head four years ago with the first netbooks, which shocked professional commentators with the huge hunger on the part of buyers for small, light, long-battery-life Windows computers.
Most folks don't understand just how conservative the computer press is, and how linear their thinking is. If e-books are hot, they'll be hot forever. If netbooks are cool, they'll be cool forever. If phablets are "uncool," they'll be "uncool" forever.
Anything that actually breaks new ground will be an automatic failure. Why? Because it's not the same thing as what's already successfully out there. This is why tech geeks are always amazed when something new turns into a gigantic success. "Who could have imagined that?" they mutter uneasily among themselves as they struggle to catch up and pretend that they predicted it all along.
Who could have imagined? Well, somebody with even a tiny bit of imagination, guys.
Geeks are techies, and, in general, aren't really long on imagination, unless somebody else supplies it for them – maybe in the form of Star Trek, computer games, comic books, or science fiction novels. And even with that stuff, a favorite geek preoccupation is nitpicking the stories to death with complaints about how something or other is technically impossible.  Drives me nuts, actually.  They think creative, imaginitive stuff should read like the operating manuals most of them don't bother to read.
Anyway, this new entry is right in line with my own predictions for the future – smaller, lighter, more powerful, more capable, and more destructive of niche technology. I should be down to only two machines with this – my Samsung phablet, and my Asus hybrid. Between the two I'll have a phone, a small tablet, a large tablet, an e-book reader, a television, a camera, a notebook, a desktop machine (by plugging it into my homebrew USB dock), a sound recorder, a music and video player, a radio, and a host of ancilliary devices which, thirty years ago, would have weighed hundreds of pounds and filled a room.
And you know what, folks? We're still in the lower reaches of the Singularity curve.