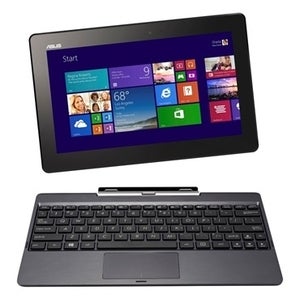 Bay Trail tablets with Windows 8.1 will hit stores next week | PCWorld
With the release of Windows 8.1 next week will come new tablets with Intel's latest Atom chip code-named Bay Trail. The tablets, with starting prices from $299 to $350, include Dell's Venue 8 Pro, Toshiba's Encore, and Asustek's Transformer Book T100. More models will ship in the coming months.

The tablets are for web browsing and media consumption, much like the iPad, and offer more than eight hours of battery life with screen sizes starting at 8 inches. Accessories like keyboards can turn these devices into laptops, and the tablets will run existing Windows 7 and 8 applications.

The new Windows 8.1 tablets are lighter and thinner than previous Windows 8 tablets that started shipping last year. An alternative to Bay Trail tablets will be Microsoft's Surface 2, whose ARM processor is expected to be comparable or even better on battery life than Bay Trail tablets.
These Bay Trail tablets runniing full Windows 8.1 will start hitting the stores simultaneously with the release of Win 8.1 itself on the 18th of this month. Most of them look interesting (except for Microsoft's Surface (RT) 2, which will be D.O.A.), but I'm going with the Asus Transformer T100, which I've already pre-ordered after selling my old, barely used original Surface RT on eBay in order to raise the funds. For me it offers the best combination of price ($400), software (free Office with Outlook), size – 1.2 lbs as a tablet, 2.4 as a clamshell with a good keyboard – power, battery life (11 hours, supposedly) and general functionality. At this price point, the whole package is actually fairly revolutionary, maybe even as big a game-changer as when Asus kicked off the Netbook revolution.
My new Asus machine is shipping from Amazon on the 18th of this month, and I'll put up a review as soon as I have a chance to give it a workout.
If I had money to burn, I might take a look at the highly configurable Dell Venue 11 Pro (with a removable battery), which has a higher screen resolution, but I don't. By "money to burn," I mean up to $700 dollars, not up to $1800, as the heavy, clunky top end Surface Pro will run.