Coptic Christians March on White House, Washington Post
The protestors gathered on the curb outside of the White House lofting signs that read, "We support the Egyptian Army," and "The Muslim Brotherhood never renounced terrorism."
"You can burn down our churches but you can never touch our faith," read another sign.

"I love this sign," said one passerby who saw the sign referring to the churches. "I believe it too."

Many Egyptian churches have been burned and vandalized in recent weeks as Muslim Brotherhood-backed protestors swarm the streets. Dozens have been killed during the riots.

"Although the Muslim Brotherhood has spent the last month destroying churches homes, and businesses, and torturing and killing both its civilian and military opponents, the Obama administration continues to insist that it be 'included in the process' of forming a new Egyptian government," an advocacy group called the Institute on Religion and Democracy said in a statement of solidarity issued to reporters at the march.
The protestors, who were bussed into D.C. from their churches, maintain that the Obama administration has not done enough to protect Christians in Egypt from the Muslim Brotherhood.
"Obama, he's helping them," said Mossed.
The protest drew interest from tourists and other passersby. At one point, several Segway riders paused to snap pictures of the protestors.
Protestors said they were particularly upset with the way the American media has written about and portrayed the events in Egypt.
"The Washington Post, they don't give a voice to the people and tell the truth," Mossed said. "They have to show all the truth and not just hide it like Al Jazeera."
Another protest leader could he heard yelling about the Post, claiming that it is just "like Al Jazeera."
When one attendee made note of Al Jazeera America's recent launch, the protestor angrily responded: "More propaganda, more lies."
Reaping what you sow. Almost.
Washington Post goes on lockdown
An anti-Muslim Brotherhood protest which started at the White House made its way up 15th Street Northwest and ended at the Washington Post's building at 1150 15th St. NW. The building went on lockdown, some Post reporters tweeted. According to a Post spokeswoman "the front lobby was closed for a very short time for safety."

Washington Post video journalist Whiteny Shefte also tweeted out some photos of the protesters.
Apparently the employees of WaPo don't care for Arabs in front of their building. Isn't that Special?
Love the sign on left(appropriately).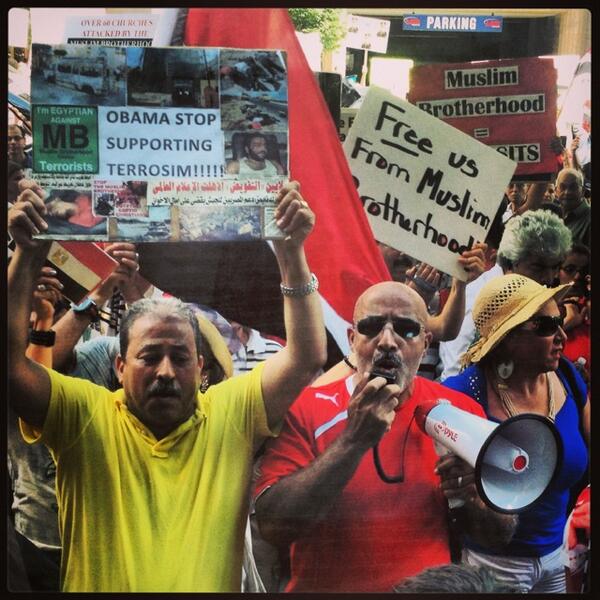 Maybe, just maybe, the WaPo could pull it's collective head out of it's collective ass and write the truth about whats going on in Egypt. But, since they rely on Islamist front groups to tell them what to think that won't happen.
The same Islamist front groups that are busy telling State, DHS, NSA, FBI, and the current Assministration what to think.
Via Small dead animals.